Improve your outdoor space with a quality outdoor barbecue construction project for your Danville CA home. For homeowners who love to throw a great family cookout or pool party, a BBQ is an absolute must. It's a quintessential gathering staple, allowing you to cook for many people while enjoying their company and being a part of the action. At Hawkins Pools, we're about much more than just pools, we are about creating impressive outdoor living areas that everyone can enjoy! To do this we provide Outdoor BBQ contractor services, offering local homeowners custom outdoor BBQ construction options so we can create an outdoor kitchen that will bring beauty and functionality to your outdoor space.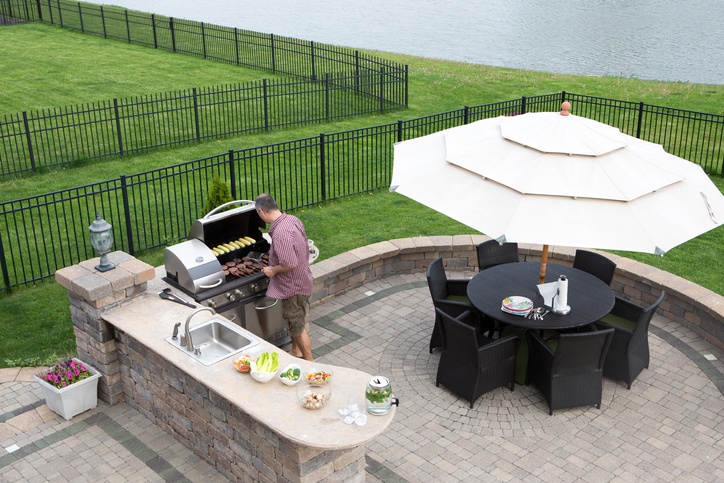 Whether you prefer propane or charcoal, your grilling style is all your own. Every backyard BBQ expert has their own signature flare and a dish they love to cook every time, so we like to do what we can to make that process even better. A great barbecue construction can make a substantial difference in your Danville neighborhood gatherings and really up your grilling game. Gone are the days of picking up something with wheels from the nearest hardware store. It's time to get an installed BBQ with all the trimmings! Our custom BBQ construction process begins with a design meeting to determine your needs, budget, and the space we'll be working with. Our designer offers 35 years of experience in design and construction, and he's not alone. Our building team puts those designs into action, from a smaller built-in grill to a full-scale outdoor kitchen complete with lighting and refrigeration. You'll be able to make meals you've only dreamed of before, and we're only a simple phone call away!
You can reach our team at 925-886-1300 or use our convenient online form to let us know your budget and what type of project you have in mind. We offer barbecue construction to customers in Danville and the surrounding areas, as well as other building services. We can construct pools, pool houses, cabanas, pavilions, and fire pits, or renovate any of the above. Have a question? Let us know!