Swimming Pool Design Project Examples
Hawkins Pool is and always been committed to the philosophy of successful projects begin and end with a good plan. Below are some swimming pool design project examples along with arbors, pavilions, cabanas, and other complete landscape design and construction projects.
"The people were wonderful, all of the employees starting with the designer; their efficiency was incredible. Could not have been happier with the results. Beautiful design and fabulous execution".
Follow Hawkins Pools Project Activities at Client Sites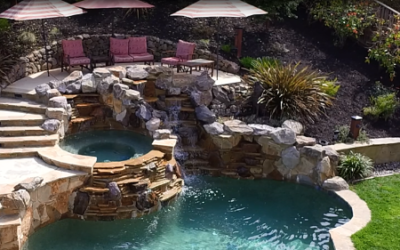 Swimming pool with spa, complete with water feature and landscaping in San Ramon was designed and completed by Hawkins Pools
read more
Building a great swimming pool and other projects starts with a great design. Browse through our swimming pool projects to see the results of our work which are based on quality design.
For over 35 years, we establish ourselves as the leader in imaginative swimming pool designer and contractor. Hawkins Enterprises, known for its innovative and challenging swimming pool designs, also specializes in swimming pool remodels and complete yard restorations.
"We saw what our swimming pool design was going to look like in full drawing and architectural plans and that was a big selling point for us"