Hawkins Pools scope of work goes far beyond new pool construction and pool remodeling. The Hawkins team has worked on numerous outdoor yard projects that include building: outdoor kitchens and barbeques, pavilions, fireplaces, fire pits, waterfalls etc. This time of year is a great time to start planning a built-in barbecue construction project at your Walnut Creek home or property and be on your way to enjoying awesome outdoor kitchen cookouts with friends and family.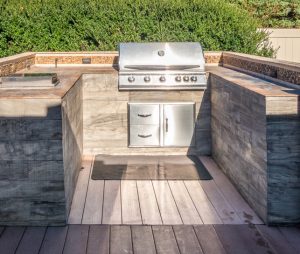 Hawkins Pools is the East Bay's premier choice for custom outdoor BBQ builders, having received numerous 5 star reviews on Yelp and providing exemplary service from the design phase all the way through the complete build. Whether you'd like to keep it simple with a barbecue only or you want to build out an entire outdoor kitchen, we're here to help you make your outdoor cooking dreams a reality.
At Hawkins Pools, our work begins with the initial meeting to assess the project space and discuss the client's vision for the space. Our designer then meets with clients to get a full understanding of your vision and begins sketching out your project space while keeping in mind and adhering to the budget requirements. We work closely with all our clients to make sure we're working in the best location and choose the right dimensions, features, and framework for the project. When the design is complete and approved, we move into the build phase.
Our team is fully licensed and insured and has extensive experience in landscaping and outdoor construction. We love planning and adding barbecue construction projects to Walnut Creek homes, as well as some businesses when appropriate. A restaurant or event space may want to invest in an outdoor BBQ, and our team has the commercial experience to make it happen. As your custom outdoor BBQ builders, we can make suggestions so you can get the most out of your space. Whether you just enjoy cooking outdoors or you love to entertain, barbecues and outdoor kitchens are scalable and customizable to suit your needs. Our team can install umbrellas for shade, a bar space for seating, and all the amenities of a kitchen, including running gas, plumbing, and electricity.
Hawkins Pools is the Bay Area's most trusted pool and outdoor construction company.
We offer our barbecue construction services to Walnut Creek and the surrounding areas, including, Danville, San Ramon, Alamo, Pleasanton, Livermore, Moraga, Orinda, Pleasant Hill. Make your outdoor space the oasis you've always wanted! In addition to BBQs, our team also builds and renovates pools, cabanas, pavilions, arbors, fire pits, and more. Please call us at 925-886-1300 to speak with a member of our team and schedule a consultation or appointment.