Cabana Construction San Ramon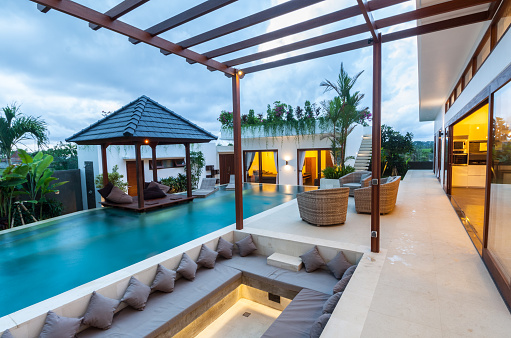 Looking for a qualified cabana construction company in San Ramon? Hawkins Pools is here to help! We are a licensed and insured contractor with decades of experience creating beautiful outdoor features for East Bay homes. Your customized design starts with a meeting with our skilled designer, who has over 36 years of experience in landscape and construction design. Once you've discussed your vision with our designer and approved the final plan, our custom cabana builder begins construction.
Our custom cabanas and pool houses can be partially or fully enclosed to meet your needs and desires for your space. Every design is unique and tailored to the client and space we are working with. You may want to include a fire pit or fireplace, or lighting and sound system to play music which would enhance the ambiance and enjoyment of your outdoor space. Whatever you have in mind, we'll work with you to make it happen. We do custom cabana construction for homes and businesses throughout the San Ramon and surrounding areas, so whether you're constructing on company property or in your own backyard, we'll help you create something amazing. A professional custom cabana contractor can add outdoor features that bring character and functionality to your pool area. The sky's the limit for what our team can do! In addition to cabanas, we also plan, design, and construct swimming pools, pavilions, BBQ areas, outdoor kitchens, pool houses, and anything else you can imagine for your yard. Our company offers regular pool maintenance for inground pools and spas as well.
Please drop us a line at (925) 886-1300 or fill out our convenient online form to receive an estimate or set up an appointment to discuss the scope of your project. We're proud to provide pool and cabana construction to clients within San Ramon and the surrounding cities. We can take care of it all when it comes to your pool and everything around it from construction, remodeling, and design. Let us help you make your outdoor space a paradise!