Looking for an arbor contractor for your Walnut Creek property? Hawkins Pools has you covered! Our custom arbor contractors will meet with you to discuss your goals for your arbor and be with you from the start of your project all the way through completion. Arbors come in many shapes and forms, from a classic Western style to Eastern pagoda styles, or even more abstract designs. These overhangs can be small or large, spanning a simple entryway, framing a garden space or covering an entire deck area. They offer shade and make an excellent aesthetic addition to any yard.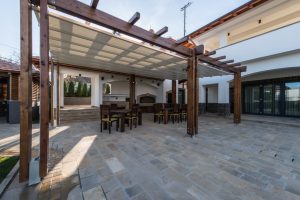 You may know exactly what you want out of your arbor or you may be seeking external guidance from an expert. Either way, our team is here to help. In the design phase, we'll plan for the space, structure, and budget for your arbor, including the type of wood, stain, or paint you'd like. As an arbor contractor serving Walnut Creek, we consistently stay up to speed on the latest local laws and building codes to ensure your structure is both safe and built to code. To complete your perfect yard space, we also provide services including pool construction and pool renovations, cabana construction, fire pits, outdoor kitchens and more! Our team consists of custom arbor contractors and designers, giving you complete freedom to get exactly what you want. With both engineering and architectural services, we offer full construction services from licensed and insured contractors. There are no pre-made designs or out-of-a-box builds here. We build from the ground up.
In addition to our construction services, we also offer regular pool maintenance. Whether you're working with existing structures or you're starting completely from scratch, we'll make your space look its best and give you the personal oasis you deserve. To meet with an arbor contractor in Walnut Creek, please call us at 925-886-1300 to speak with a member of our team and schedule a consultation or appointment.