Arbor Construction San Ramon
Professional arbor construction can add romance and class to your San Ramon home or business. Hawkins Pools is a licensed contractor with experience creating beautiful arbors and outdoor features for individuals and businesses in the East Bay. A simple archway can add elegance to a garden while a large arbor over a patio can bring the entire space together and offer cover from the sun. Whatever your vision, our arbor designer and contractor will help you make it happen from the ground up, literally.
Our arbor construction services utilize an experienced team of individuals that are all dedicated to transforming your space. Our talented designer will discuss your needs and vision for the arbor. This may include curved or rectangular design, framing a pathway, or creating a shaded alcove with an archway covered in vines. Once the design is finalized, our in house arbor contractor will begin construction.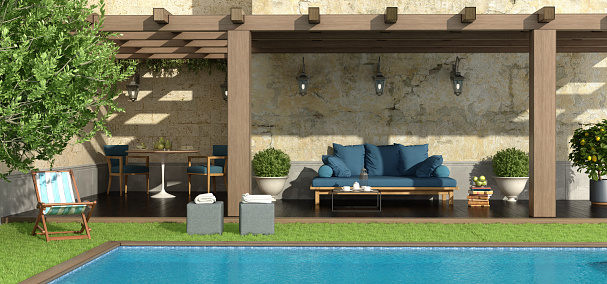 The best part about working with Hawkins Pools? We can take care of it all when it comes to your pool and everything around it from construction, remodeling, and design. Our team is able to create a custom arbor just for you. There may be vines or flowering plants growing up over it, or it may be wound with lights, or it may simply feature plain wood. These types of arbors are lovely, but they're certainly not the only options out there. At Hawkins Pools, we offer custom arbor construction for San Ramon homes and businesses that can add character to a space, whether it's covering an outdoor kitchen or framing a garden. Our skilled arbor designer can create a number of different looks and shapes, from a standard pergola to a circular structure that gives the space a more serene feel. If you have plans for the arbor, such as using it for on-site weddings or using it as a trellis for flowering plants, let us know so we can accommodate and make suggestions based on the planned use.
In addition to arbor construction for San Ramon residences, we also do design and construction projects for swimming pools, pavilions, gazebos, pool houses, guest houses, barbecues, and much more. Our designer has more than 36 years of design and construction experience, as well as a Masters in Art, which gives him a creative edge for planning. Please call (925) 886-1300 to schedule an appointment or fill out our online form for an estimate.