Ready to get started with a fire pit construction project on your Moraga property? Hawkins Pools is here to help! Despite our name, we're a contracting firm specializing in all sorts of outdoor construction projects, including stunning fire features, Pavilions and outdoor kitchens. An outdoor fire pit construction project can be created in a variety of different styles, whether you want an outdoor fireplace, an actual pit, a fire bowl, or something else entirely. California building codes specify the type of fuel you can use in your fire pit and how it must be situated for fire safety, and our contractors are well aware of all applicable building codes.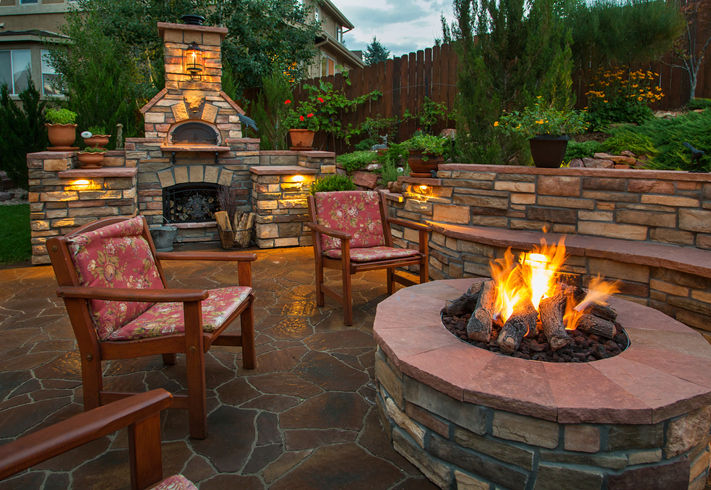 The right fire feature can add a definite "wow" element to your outdoor space. Fireplaces have long been a place for family and friends to gather to enjoy food and conversation, or simply enjoy the pleasant warmth of the fire on a cool night. If you have children, they may even want a place to safely roast marshmallows with friends during sleepovers. Whatever your reason and whatever your style, Hawkins can provide the perfect fire pit construction for your Moraga home. We also work with commercial properties like restaurants and hotels, so if you'd like to add fire features to enhance your guests' experience, all you have to do is let us know what you're looking for.
There may be limitations on whether you can build a wood-burning or gas-burning outdoor fire pit construction, so it's always wise to work with a professional contracting firm that is both licensed and insured. Our team knows everything they need to know to not only do the job well, but also do it to code.
In addition to fire pits, our team also provides outdoor design and construction services for pools, arbors, pool houses, cabanas, swimming pools, outdoor kitchens, built-in BBQs, and more. For more information or an estimate about a fire pit construction project for your Moraga home, please give us a call at 925-886-1300. Check out our Yelp page for reviews from customers!