Are you planning a pool house construction for your Moraga home? If you're in the process of creating a list of contractors to vet for your pool house construction project, we hope you'll add Hawkins Pools to the list. And we invite you to check out our Yelp reviews! (Link) With more than 35 years of experience in landscaping design and construction, our professional team will help you create the dream pool house you've always wanted, and more! Perhaps you're thinking of also doing a fire pit or an outdoor kitchen that will create a great space to host friends and family? We can help with that too! Our team of custom pool house builders will work closely with you from start to finish to ensure that your pool house matches and enhances your outdoor space perfectly.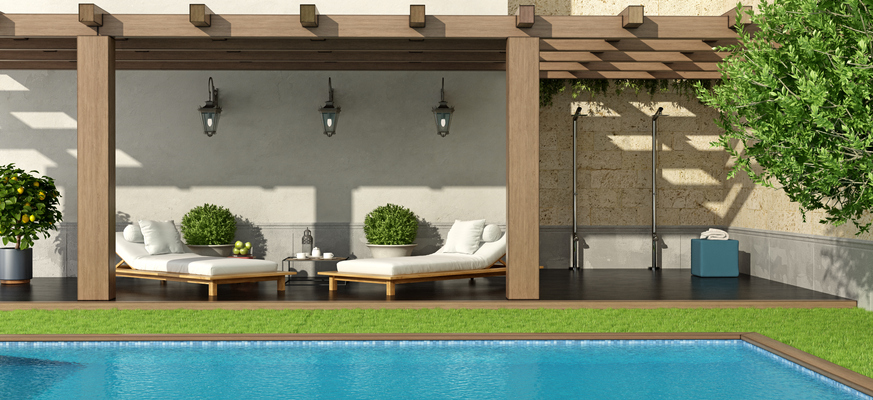 When we begin work with a new client, we start with an in-person meeting, so we can properly assess the space, and get an idea of the scope and cost for the project. Our contractors will be with you every step of the way, from the initial walkthrough to the design creation and each important step through the completion of the job. It's important to us that you feel in the loop on the process because we find that's the best way to make sure we have happy customers that are getting exactly what they want. For pool house construction at a Moraga residence there are a variety of factors to consider such as; are you planning on creating a pool house that can double as a guest house or you want it more of an entertainment space or add a spare kitchen for outdoor cooking? Or are you planning something simple and open-air to make sure your family has some shelter from the sun? Our custom pool house builders can do a lot, from setting up electricity and heating to incorporating an outdoor fireplace and more.
When you go to select a contractor for your pool house construction in Moraga, be sure to find a firm that is fully licensed and insured. At Hawkins Pools, you'll always know you're working with people who are highly qualified and do what it takes to get the job done professionally. We're capable of a single construction job or a complete overhaul of your outdoor space. Whatever you need, we can get it done. Give us a call at 925-886-1300 to request an appointment and meet our team.